Advanced Elementor Tutorials
Empowering Elementor Users Worldwide
Step Up Your Elementor Game with Element.How
Create amazing designs easily by following one of our tutorial, and wow your clients and visitors.
Our resources provide easy-to-replicate designs, making it efficient for you to create stunning designs.
Advanced design tutorials that don't require extra plugins and saves you from paying for custom development.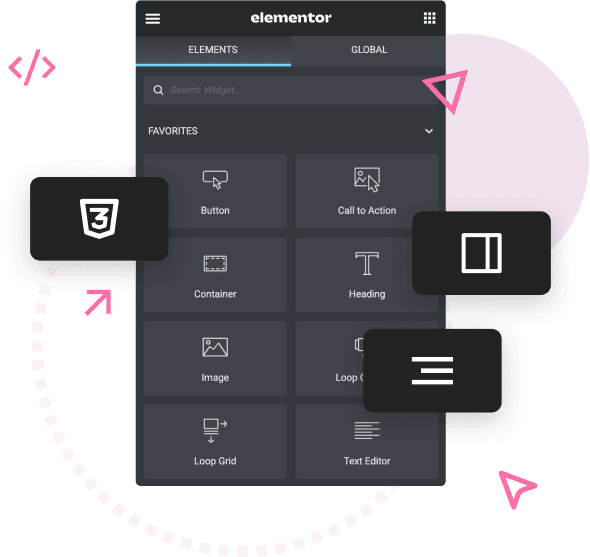 This course helps you understand how to integrate custom CSS with Elementor, unlocking endless design possibilities
The CSS course cater to all skill levels, making it suitable for both beginners and intermediate users.
While learning all you need to know to become proficient at CSS, you will practice with 7 great Elementor + CSS Projects
Complex Grids, Simplified
The Simple CSS Grid for Elementor is a plugin that simplifies the creation of complex grid layouts.
After installation, it integrates with the Elementor editor, allowing you to create professional-looking grids with just a few clicks.
There are 64 grid layouts to choose from, all available in a  single click.
Simple CSS Grid adds grid layouts to the Container, Loop Grid, Gallery, Basic Gallery, Portfolio and Column elements.
"Maxime has been so so reactive and efficient to solve my problem. One of his plugin did not work in the example. I wrote to him, and in the hour it was fixed, I downloaded it and it worked perfectly on my website! Huge thanks."
"Maxime is a wonderful partner. Aside from having an encyclopedic knowledge of code, he's more than willing to make sure to pass it along in a way that saves me time and effort. Plus, he's a good guy!"
"Couldn't ask for more. Every little snippet you need to enhance your Elementor site Maxime has it, along with a great tutorial to go with it. A fantastic repository! Thanks Maxime"
"I can't say enough good things about Maxime! He went out of his way to provide additional support and immediately found and resolved the issue I was having. He is such a skilled developer while also being an excellent communicator - warm, helpful and personable. I'd trust him with any of my sites! Thanks again!"
"Maxime was amazingly responsive. He understood my question, and created a solution within a day! And when I followed up with a question about a change in parameters, he again responded quickly, and offered the solution with friendliness and grace. I couldn't be more pleased with his assistance."
"ElementHow provides outstanding products that save hours of coding time and make websites look fantastic. Also, their customer service is outstanding and very timely. I highly recommend ElementHow."
"We've used Maxime on multiple occasions and he has been absolutely fantastic.
Not only have we made purchases for additional add-ons through the Element.how website which have been faultless and done the job required, but we've also used Maxime on a number of custom jobs and he has hit the nail on the head everytime.
His communication, speed and quality is second to none and we cannot recommend him enough! We have been and will continue to use Maxime for future web projects!"
The look-no-further site for Elementor help.
Unleash Your Elementor Creativity